With a dental implant it is possible to safely replace a missing tooth. The end result is natural and feels like one of your own teeth.
Book a free consultation
A dental implant can replace a missing tooth. Seppo Lindroos, President of Medident, is working with Planmeca, a leading technology company in the industry, to prepare orientation materials for the international training of dentists, and this requires patients who need a dental implant. We offer dental implant care for patients suitable for the project at a price of € 1,100 for a dental implant and a crown, including all costs related to the treatment.
Painlessly replacing a missing tooth is possible by a dental implant. Dental clinic Medident offers top notch dental services in central Helsinki. Medident is located next to the Helsinki cathedral, at Mariankatu 12.
Our clinic has been rewarded with the Excellence Finland Award for being a forerunner and innovative clinic. The clinic director, dentist Seppo Lindroos is the only Finnish dentist who has completed the ESCD aesthetical dentistry certificate process.
Read also Helsingin Sanomat -article on Medident's digitalically controlled implant care.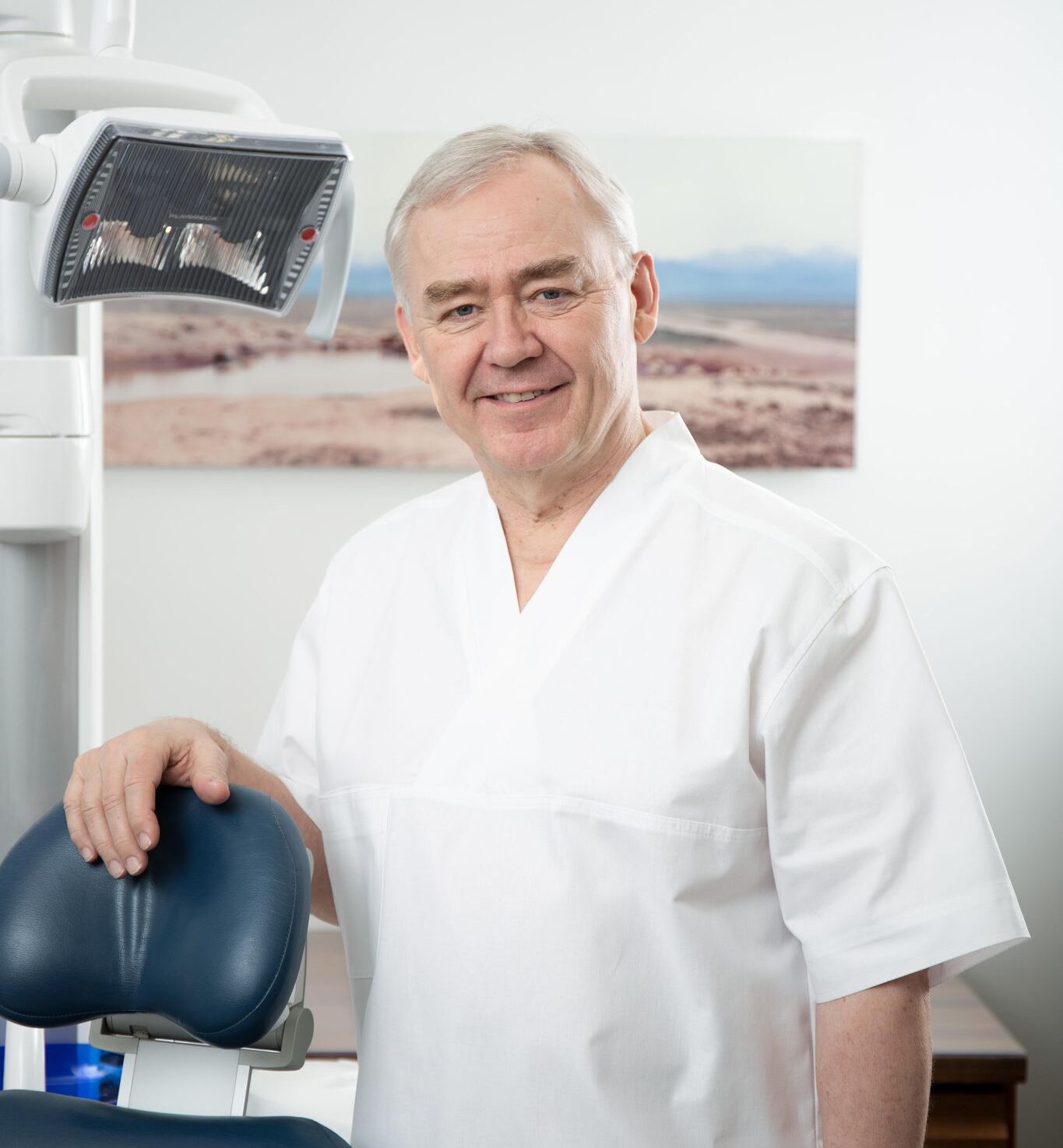 Seppo Lindroos: About tooth implants
In an implant treatment a titanic root is installed to jawbone. We will attach a uniquely created tooth crown to the implant. The end result is natural – dental implant looks and feels like your own tooth.
Well made, a tooth implant is a life-long solution for replacing missing teeth. It is possible to replace one or more missing teeth, even a completely toothless upper – or lower jaw.
Why should you replace a missing tooth?
Teeth have many important jobs. With teeth we will chew and fine our food and they are a part of the process of talking and supporting cheeks and lips. A missing tooth will weaken the chewing ability, impact creating of certain sounds and result in aesthetic harm.
Missing teeth will result in more strain for the rest of the teeth. Missing tooth will leave a gap in the dental arch. This will result in next door – and opposite teeth moving which will result in occlusion imbalance and also problems and pain in the jaw. When there are too little teeth in the occlusion, teeth can also wear heavily. It is especially important to replace a removed jaw tooth because the biting powers are especially strong in the back of teeth.
How is implant care done?
Installing an implant is possible for people of all ages, whose height growing have stopped. Age is not a blockade for dental implant treatment. It is possible to install a single tooth crown, several teeth wide teeth bridge or a loose prosthesis on an implant.
Implant treatment includes two different phases; in the surgical phase implants will be attached to a jawbone and in the prosthetic phase we will build the long lasting teeth.
Implant surgeries are usually done with local anaesthesia, but it is possible to be done in a sedate if the client wants to be asleep during the surgery. If the client wants to be asleep during operation there will also be an anaesthetical specialized doctor present.
Planning the treatment
Prerequisite for a successful implant treatment is that the client has enough jawbone. First we will do a complete research of client's dental structure and occlusion. There is also a radiography done. On top of the traditional panorama picture we will also do a 3D – computer tomography, with which we will get a wide outlook on the amount, structure and shape of the jawbone.
With the 3D -tomography we will make implant prosthetic planning better and lessen the risks of premature surgery. With information we get from roentgen we will develop a plan for the implant treatment.
If there is not enough of your own jawbone left, it is possible to make a bone transfer.
How will the implant be installed?
Tooth implant is a titanic artificial root, which will be installed in to your jawbone replacing the missing root.
Implant treatment has a surgical and prosthetical phases. In surgical phase we will attach artificial roots, implants to the jawbone. After this, in the prosthetic phase, we will build crowns and other prosthetic structures on top of the implant. During the time between treatments you will still have teeth.
Attaching an implant is usually done in local anaesthesia. The operation is painless and after treatment aches are little. After about a week after the treatment possible stitches will be removed.
After implantation the implant will be given time to ossify, and after the healing time we will create a tooth crown. Before prosthetical treatment implant's ossifying process will be controlled with roentgen and clinical research. In some cases the crown can also be created right after the implantation.
If there has been a long time after the removal of a tooth, it is possible for jawbone amount to lessen because of it. Because the implant treatment needs a certain amount of jawbone structure, we might have to do a jawbone transplant or an artificial bone attachment.
What material are the implants made of?
Dental implant is created from titanium that is usually used in orthopedics. The titanium will ossify well into the jawbone and will not cause allergic or rejecting reactions.
Titanic implants have been used around the world already for several decades.
Dentist Seppo Lindroos emphasizes importance of the quality of tooth implant. He only uses well known, globally certified products made in Switzerland. This way we can be certain of a quality end result.
What material is the crown made of?
Thorough planning of the crown, high quality materials and the high-class technical competence will ensure a long-lasting result, says dentist Seppo Lindroos.
He uses a uniquely designed titanic extension, abutment on top the implant in creation of the crown. We will use quality ceramic materials to create the crown. Either lithium disilicate or zircon.
Another sustaining method in creating the crown is a metal-ceramic crown. Lindroos also uses CAD/CAM computer -calculated technologies in creating the crowns.
The price of tooth implant
Tooth implant treatment is more difficult than regular treatment, and it requires a special knowledge from the dentist. The most important thing impacting on end result will be the knowledge of dentist performing the procedure.
The price of the treatment will depend on the amount of teeth and the materials used. If the patient want several teeth treated at once, we will give a discount for the treatment.
The final price of the treatment will also depend on unique needs, for example possible need for bone transplants. The price evaluation can only be done accurately after a dentist creates a personal treatment plan.
You can reserve a free planning visit for our dentist in order to map out dental implant treatment, it can be done from our internet reservation service. In the consultation visit you will be designed a plan and price evaluation of the treatment.
How do you have to take care of the implant?
Home care is vital for the success of implant treatment.
Artificial root, implant, will be treated the same way as you would treat your own tooth. Regular brushing and cleaning of teeth and the gaps in between them is the cornerstone of home care. Our dental hygienist will brief on choosing right home treatment equipment.
Regular yearly or biannual checks will support dental health maintenance. Removing calculus and professional cleaning of teeth will have its part in reducing risk of infection in dental attachment tissues, and will reduce the risk of losing other teeth.
Free consultation in Helsinki
You are welcome to a free consultation which allows us to give you a comprehensive picture of your situation and the treatment that is best for you.
The consultation visit does not bind you to anything, but it allows you to get to know our clinic and the staff who take care of you.
The easiest way to book a free consultation is to book a time for our clinic director, dentist Seppo Lindroos, using the online booking tool. You can also call us.
Book a free consultation